I Want to hear different opinions/POVs of 'flat earth' who here believes in it ? Also the firmament which is around it - copy and paste photo for reference..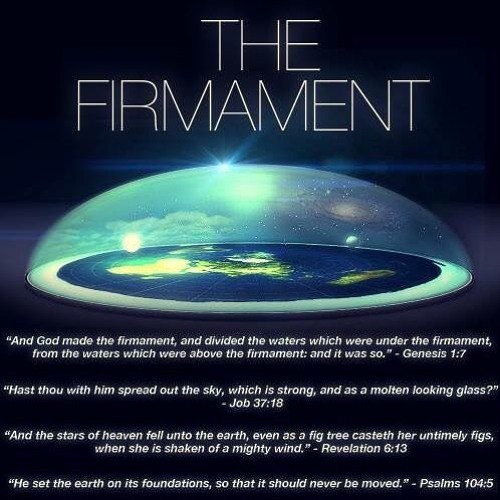 We live on a big pond or galaxy and we are surrounded by other realms or worlds like ours, with their own ice wall like ours, all around us. Our realm or world is at the center of the pond. This is a good visual of ancient civilizations and how they knew we lived on a flat earth under a dome,
. It all comes down to science to prove a flat earth which is easily done versus the globe which is an unprovable theory. No the images of earth from nasa are CGI created. Thats right and it comes directly from nasa. They don't have any photo from outer space because they can't go into outerspace due to the van allen radiation belts and getting past the firmament shell holding us in.
Maybe that is why The Antarctic Treaty exists and ironically every country is compliant. Funny but no other treaty in history has every country on board? The treaty prohibits anyone from traveling beyond the land and ice shelves south of 60°S latitude. Why? Maybe because more land exists beyond the ice wall and certain passages will free you from this realm to experience the other worlds. This link is helpful and showcases other worlds outside of ours, http://www.librarising.com/flat/worldsbeyond.html. Some in our recent past have traveled beyond the ice wall. Navigator William Morris who, after the Independence War in the United States, decided to investigate with his new vessel the waters surrounding the Antarctic Circle, finding an unknown passage (sw of South America called Barringtion/W. Morris strait) to an open sea. He discovered new lands and civilizations. Another good treaty visual is
Believe your eyes, not a fisheye lens that Nasa has used for years to deceive the sheep. At times I can see across Lake Michigan from the chicago side and see Michigan's shorline with my eyes alone, no telescope of zoom lens. The horizon is flat not curved. If it were a globe for every mile out over the horizon, we are told, a drop of 8 inches should happen. The distance across the lake I believe is roughly 60 miles if the horizon drops 8 inches per mile I should not be able to see the Michigan shoreline. Do the math.
Ironically the Hubble telescope in deep outer space (right!!) can show us pics of other planets etc but it can't turn around and show us a true pic of the earth? Doesn't make sense. Nasa's website tells you the earth view everyone knows is CGI. It not me!! If you investigate hubble pics its not from a telescope moving through outer space but from a nasa aircraft called SOFIA. SOFIA, the Stratospheric Observatory for Infrared Astronomy, is a Boeing 747SP aircraft modified to carry a 2.7-meter (106-inch) reflecting telescope (with an effective diameter of 2.5 meters or 100 inches). Info Direct from nasa's website , https://www.nasa.gov/mission_pages/SOFIA/overview/index.html. Like Billy Carson says don't take my word do some research it wont take you long to figure out we have been lied to for a long time. Nasa was created to keep us looking here not there. Interesting how all the astronauts since the beginning all happen to be masons for some reason, don't you think thats strange? Hmm! Don't even get me started on the Apollo flights to the moon hoax. Besides the Van Allen belts and firmament challenges Nasa had make a decision just after 3-4 astronauts were killed in a fire before lift off that to continue figuring it out OR fake the whole flight and moon deal. Enter hollywood, disney and the rest is history!! NASA I believe gets roughly 50 million tax dollars a day. Good eating!!